Eurospoor 2016, International Model Railway Event
Model railway buffs should be getting ready for Europe's largest model railway event, EUROSPOOR, which takes place this year in the Jaarbeurs (trade fair centre) in Utrecht, the Netherlands on 28, 29 and 30 October 2016. A surface area of 20,000 square meters will offer visitors the chance to view over 50 model railways belonging to clubs from the Netherlands as well as other countries, extensive model train collections, working miniatures smaller than your little finger (Z-gauge) and also enormous specimens weighing many kilograms each (gauge 1), model-making demonstrations, stands of representatives and retailers, a model railway market of 1000 meter length where train-lovers offer their used trains, accesories and collectors' items for sale or exchange. 
Photo: Eurospoor
One of the highlights at Eurospoor2016 is the Dutch model Railway club MSG Valkenswaard with their layout 'De 'Kempen'.
Background
The Valkenswaard Model Railway Group was founded in 1990 with the main objective of modelling the former station of Valkenswaard in HO scale (see CM Juli 2010). The station was part of the Eindhoven – Neerpelt line which connected with the Belgian Railway network. This layout was shown at many exhibitions at home and abroad, and subsequently described in several European model railway magazines.

By 2005 it was decided to make a new layout. The members were agreed that it should again be a purely Dutch layout with a pinch of Belgian influence – we are in the border region and Belgian stock was seen from time to time. So the subject which was chosen was De Kempen in southeast Brabant (south of Eindhoven) and it was also decided to model it as it might have looked in the 1950s and 1960s. This gave the group the freedom for some leeway in interpretation without disturbing the main theme.

A little history

The Kempen area extends roughly from Antwerp(B) to Helmond (NL). It covers the provinces of Antwerp, Belgian Limburg, south-eastern North Brabant, and the extreme north of Flemish Brabant. The landscape continues into Dutch Limburg, but is known locally there as the Peel.

The hallmark of the Kempen is its sandy soil, and until 1960 it was mostly covered with heather, oak forests, mashes and bogs. Now there are some woods, fens, meadows and pastures, which have been gradually formed on a small scale partly because of heavy fertilisation and ribbon development. The remains of the original landscape are often observed on the border between municipalities or among large areas of agricultural land, such as the Cartierheide between Eersel and Hapert and the Leenderheide south of Eindhoven.
More information (in English) and pics are to be found at the site of Modelspoorgroep Valkenswaard.
Photo: Chris Nevard
FARKHAM Its Summer 1990, England have just lost to West Germany in the World Cup,but in the quiet Midlands town of Farkham life goes on as normal. The town is served by an occasional passenger service with freight being the main traffic on this secondary railway line. Beyond the station and town centre, the land opens out to reveal a small freight yard served by trip workings and Speedlink services, whilst the main line gently curves away with a mixture of old and new buildings following its course.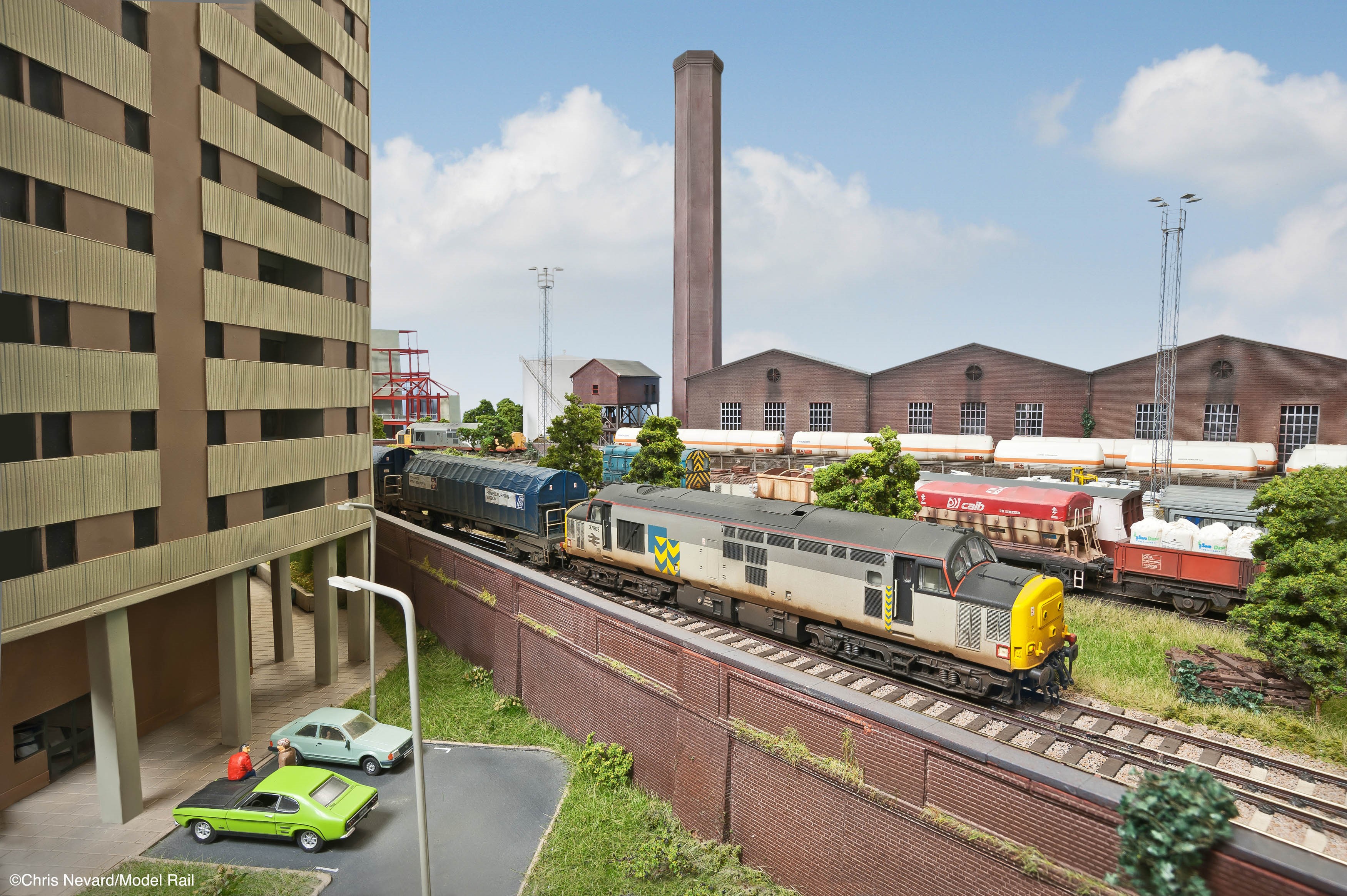 The concept behind Farkham was to capture the atmosphere of an urban scene with the railway passing through. This has been attempted, by locating buildings and trees at the front of the layout to break-up the direct lines of sight between the viewer and the trains, so when looking at the model the trains will come in and out of view creating a series of interesting 'cameos'. This encourages the viewer to look into the layout and not just at it and siting the twin tower blocks at the front, along with other large structures and trees, has created visual barriers to enable this.
The yard on the layout is portrayed in a run down, but still functioning state, very much how a number of freight terminals were in the late 1980s/early 1990s. Finally to create a realistic scene and make everything visually blend together, each item has been weathered to differing degrees, just like on the prototype. Trackwork on the layout is all hand built using C&L and Peco components and is to finescale 16.5mm gauge standards. The major aspect of the model is its buildings and structures and whilst some of these are modified kits, most have been scratch built. The rolling stock on the layout is detailed, repainted and weathered with a large number of kit and scratch built items. 
 EUROSPOOR2016
28 - 30 October 2016 (Autumn holidays!)
Venue
Jaarbeurs trade fair centre (Railway station at walking distance).
Jaarbeursplein 6
3521 AL Utrecht
Netherlands
Information EUROSPOOR, Tel. 0031.299.640354
Opening times:
Friday 28 October 10.00 - 18.00
Saturday 29 October 9.30 - 17.30
Sunday 30 October 9.30 - 17.00
Tickets also online available (see website)
Disability access: Yes
Car parking: Yes
Organisation:
Eurospoor
Amazonelaan 86
1448 TN Purmerend, Netherlands
Tel. 0031.299.640354
Fax. 0031.299.646197
E-mail: eurospoor@eurospoor.nl
Website: www.eurospoor.nl
Check us on facebook:
www.facebook.com/eurospoor
Our Magazine the Eurospoor Express Magazine:
www.eurospoorexpress.nl
Every visitor receives free: Postercalender and Eurospoor-Express Magazine.