Eurospoor 2017, International Model Railway Event, 25 years!

Eurospoor 2017: 25 year! A jubilee year with extra layouts!
3 - 5 november 2017, Jaarbeurs Utrecht, NL
(Sunday 5 november free entrance for children under the age of 12 with e-ticket).
For 25 years, Leo and Chitra Hendriksen are the driving force behind the Eurospoor train. Started in a small hall in Zaandam it slowly grew to become an international event for hobbyists coming to the Jaarbeurs from far and wide. The name 'Eurospoor' for the event came almost by itself as the borders would open in 1993, making it easier for foreigners to cross national borders with goods and layouts without much formalities.
Now for the 25th time Model railway buffs should be getting ready for Europe's largest model railway event, EUROSPOOR, which takes place this year in the Jaarbeurs (trade fair centre) in Utrecht, the Netherlands on 3, 4 and 5 November 2017. A surface area of 23,000 square meters will offer visitors the chance to view over 60 model railways belonging to clubs from the Netherlands as well as other countries, extensive model train collections, working miniatures smaller than your little finger (Z-gauge) and also enormous specimens weighing many kilograms each (gauge 1), model-making demonstrations, stands of representatives and retailers, a model railway market of appr. 1000 meter length where train-lovers offer their used trains, accesories and collectors' items for sale or exchange. 
John Holden, "Liverpool Lime Station", United Kingdom.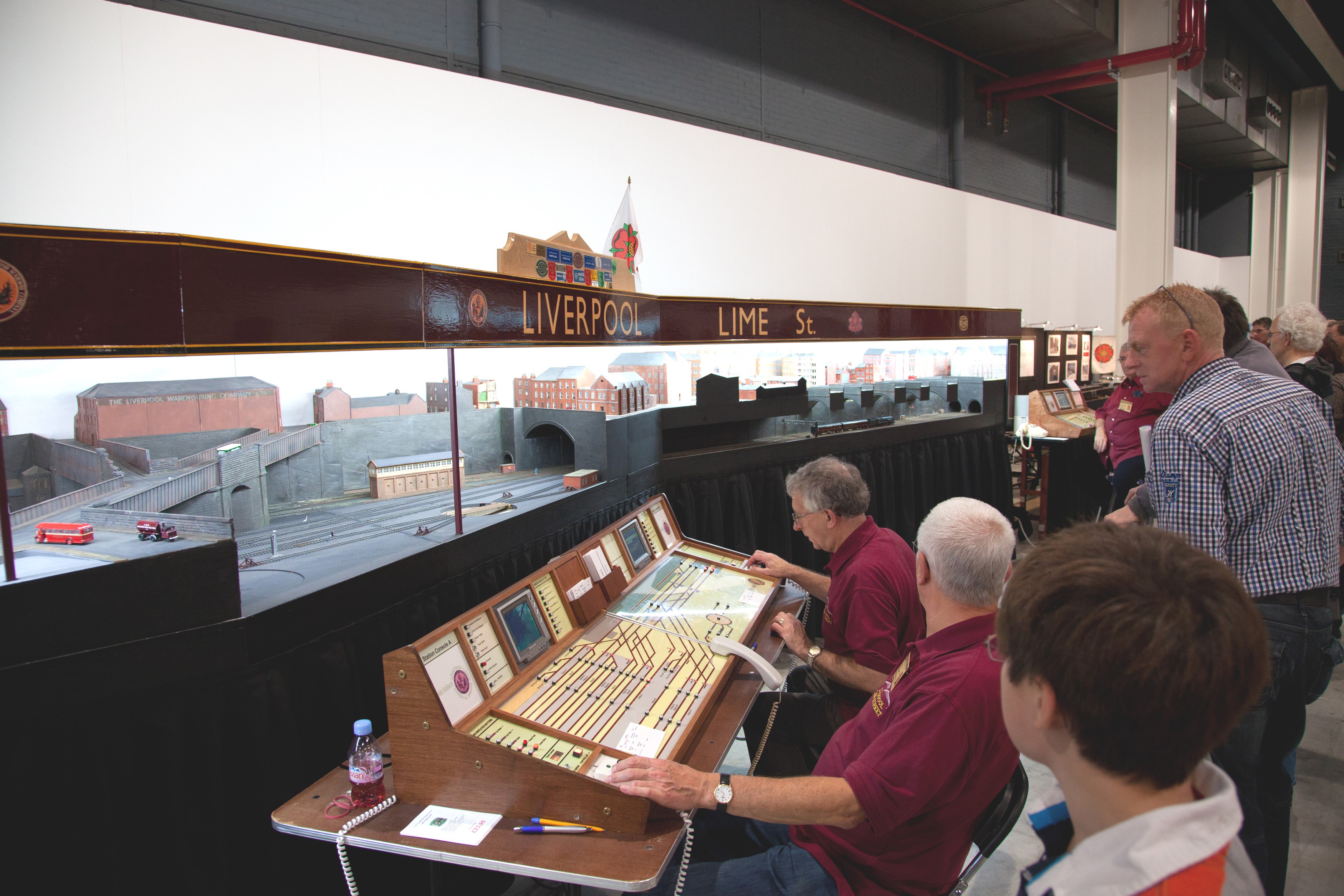 The layout represents the station in the period from 1945 to the end of the L.M.S. on January 1st. 1948. All 11 platforms are included, and the area modelled, is from the University right up to Lime Street itself. A number of the university buildings at the right hand end of the layout are based on actual buildings still in existence today.
Operationally, it is hoped ultimately to portray a typical 24-hour day's services from the morning paper train to the Merseyside Express!
A feature of the layout is the electronics used to enhance operation. Look out for the CCTV coverage of the fiddle yard, stepper motor control of the turntables and sector plate, and the router, which can set over 200 different routes into and out of the station!
This is a big project for a private layout, and although work has been constant we still have much to do to complete the scene.
Here en here you can read more about this wonderful layout.
                                          Photo: Les Green                                                            Photo: Tony Teague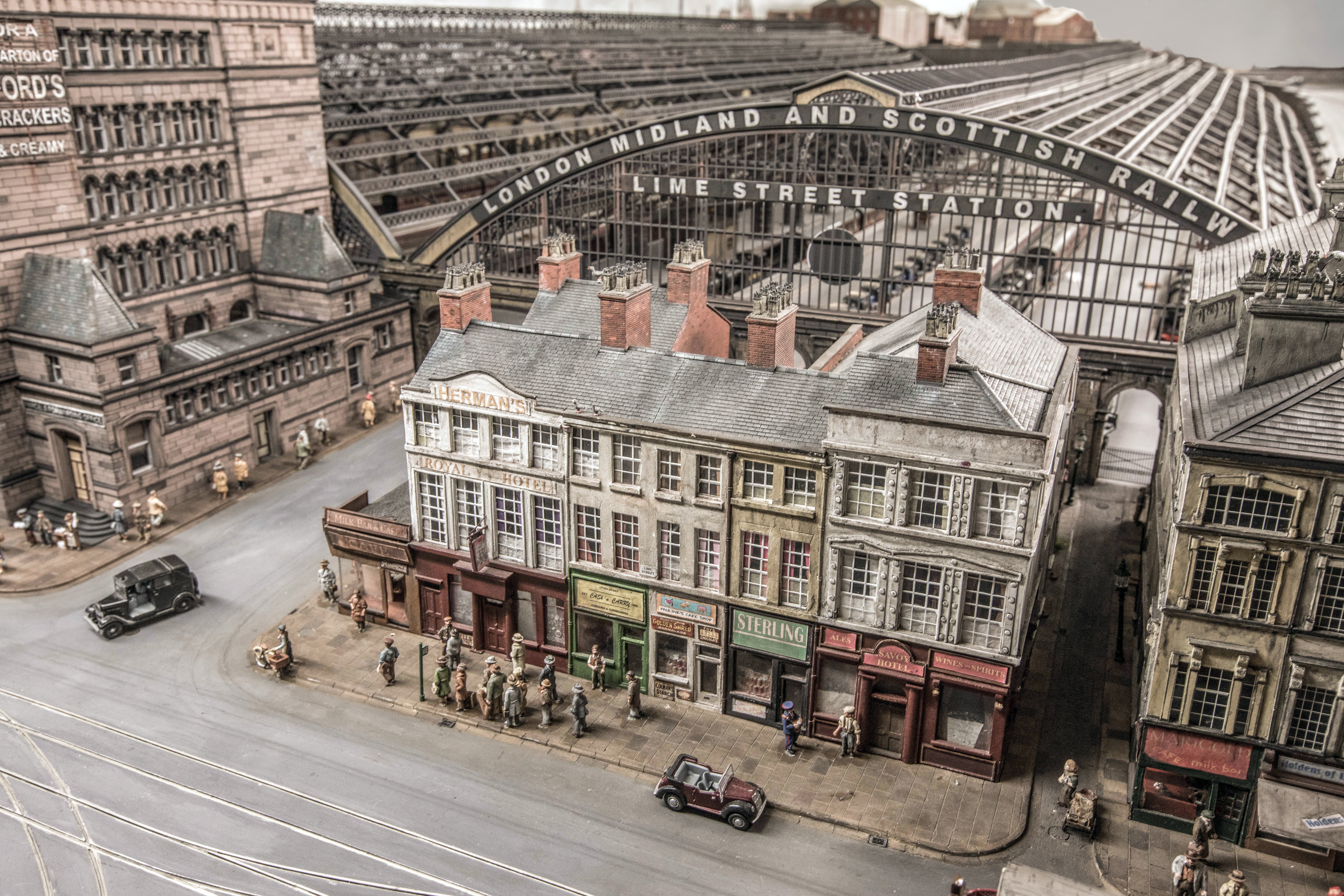 Photo: Spijkspoor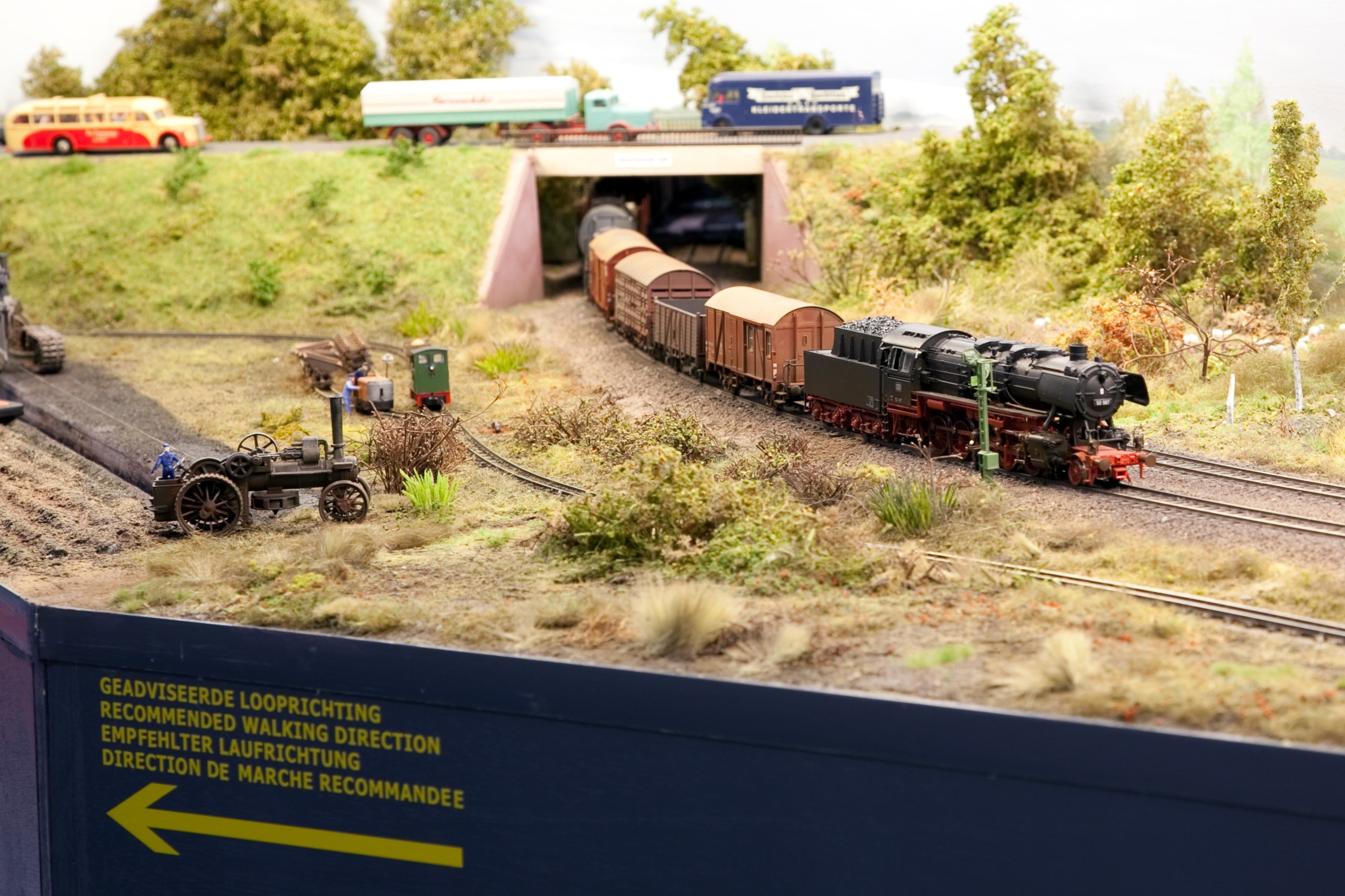 Emsland-Veenbaan, Spijkspoor, NL
Model railway club "SPIJKSPOOR" is one of the Dutch participants, presenting her segment layout named "Ems-land Moortrack". This layout does not represent an actual prototype location but a railway that could have been situated along the River Ems in northern Germany in the period 1958 - 1962 (Time period III).
The layout is completed with back scenes painted by professional artists, having completed their studies at the Willem de Koning Academy of Art in Rotterdam. 
                                                                                                                                                Photo: Spijkspoor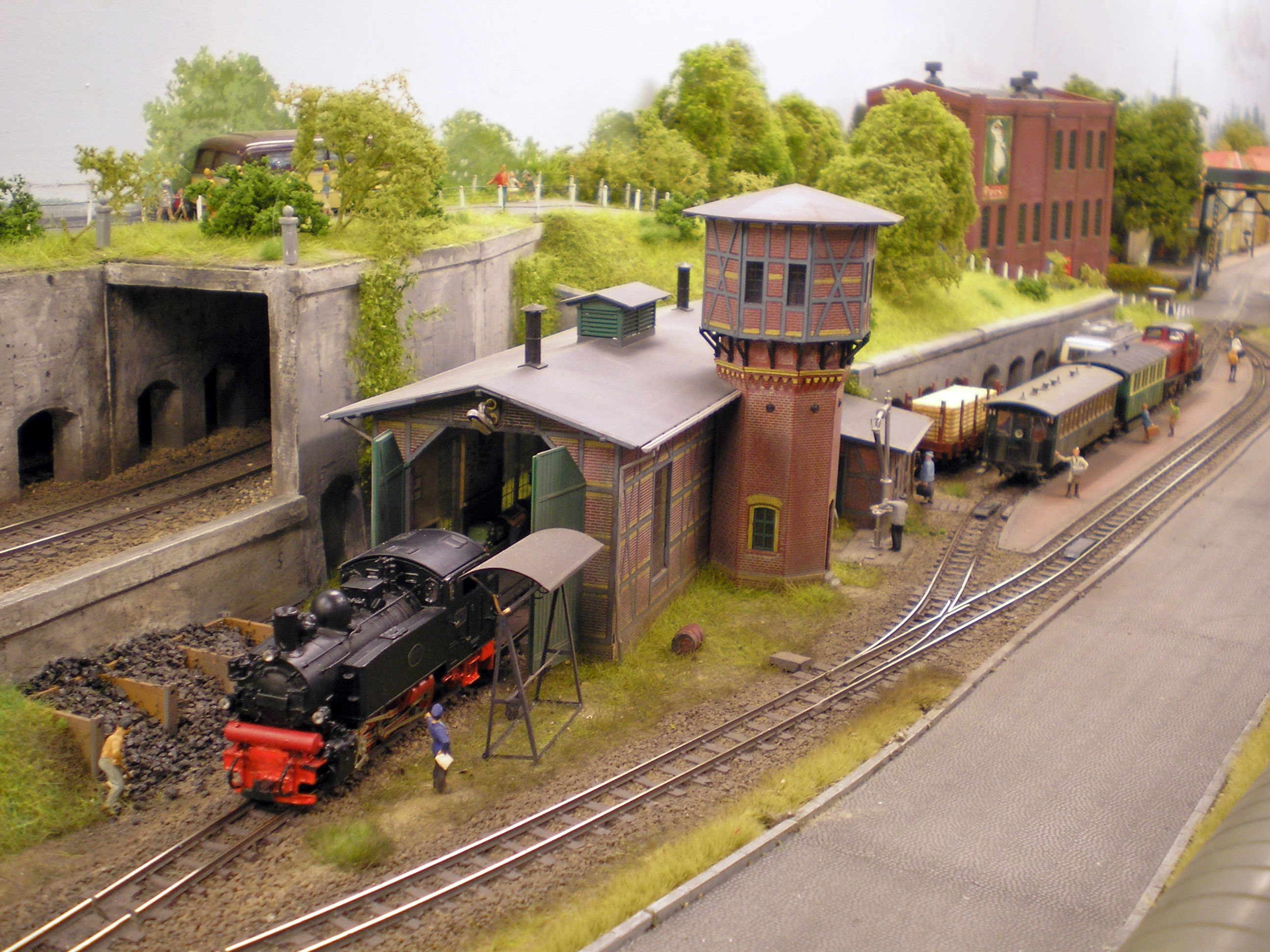 Beneath you see the end of the narrow gauge line and the fishing village Emssiel.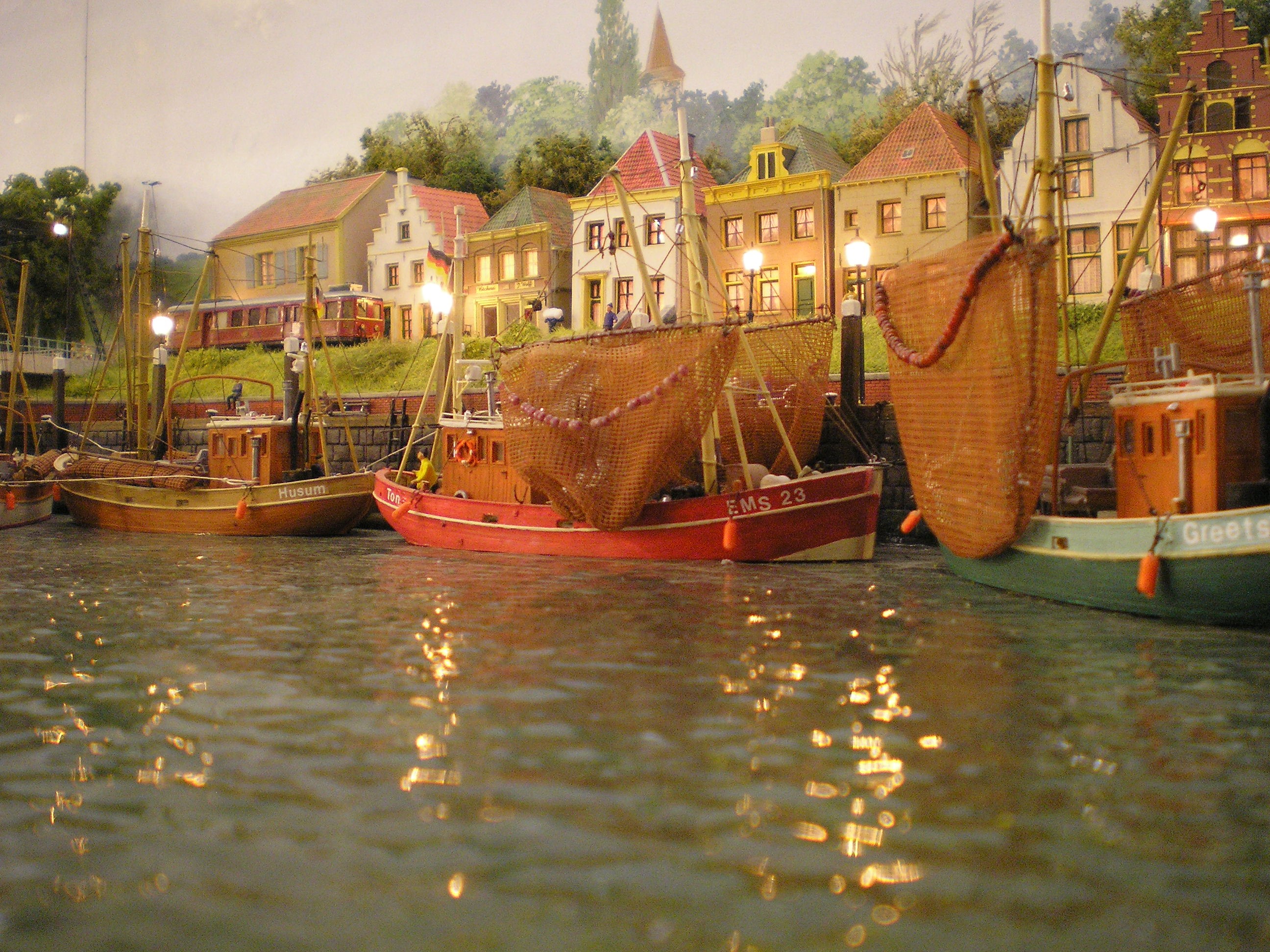 Photo: Spijkspoor
Graubundenbahn - association of Swiss Railways enthusiasts in the Netherlands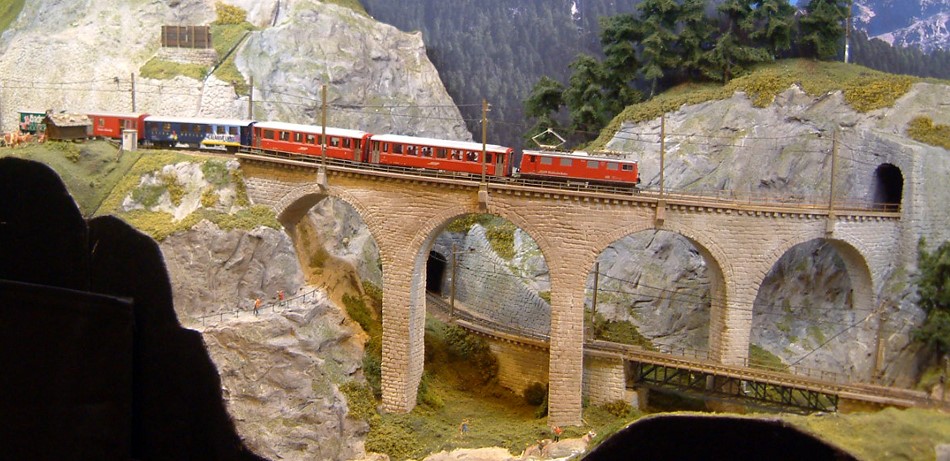 Photo: Niek Talsma
The layout is called Graubündenbahn and it takes you to the mountains of Swiss Canton Grisons (Graubünden in German and Canton is the equivalent of a country). This Canton has a widespread, narrow gauge system of nearly 450 kilometer. Mainly operates by the Rhaetian Railway (RhB). On the layout the track is narrow gauge too. The scale is equal to the widely-used model railway HO-scale (1:87) on the continent, but because it is narrow gauge, the rails are only 12 mm apart, and not 16 mm as with the normal gauge. This scale is known on the continent as HOm (in UK 3,5 mm); the "m" stands for metre track and this is the standard for narrow gauge in Switzerland. Central to the layout is Ramosch station on the planned but never completed extension of the Rhaetian Railway, from Scuol-Tarasp to Landeck in Austria, in the Inn valley. The well-known, yellow buses of Swiss Post carry the pre and post transport.
Besides passenger service, there is also intensive goods transport, because in Switzerland as many goods as possible are carried by train (reliable in the harsh winter and good for the environment). On Sunday there is less goods transport, so one goods train route can be used by a nostalgic passenger train. This consists a vintage electric locomotive Krokodil with a few Stahlwagens, a Saalwagen and three very old goods wagons.
More information (also in English) is to find on the website: http://www.graubuendenbahn.nl/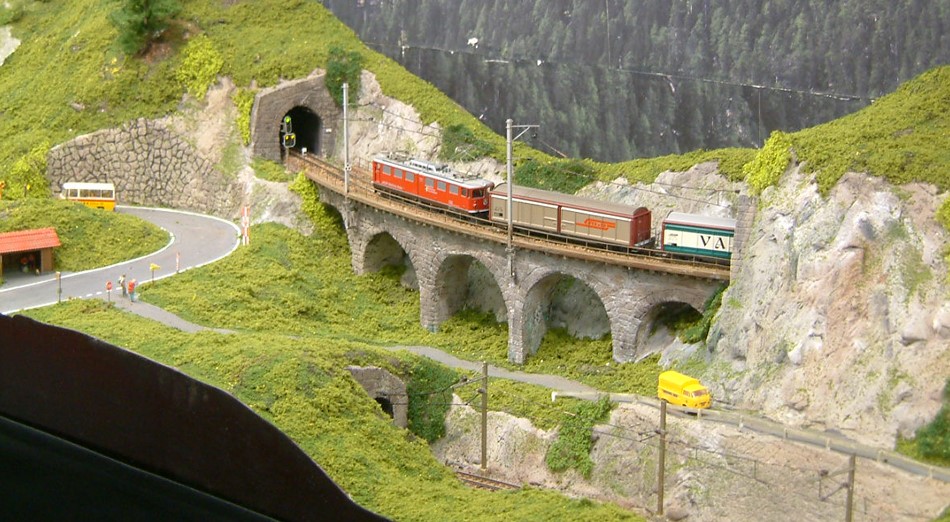 Photo: Niek Talsma                                               Photo: Niek Talsma
Diorama Contest
Foto: Niels Laan
After the success in last year's Diorama competition with more than 28 participants, a Diorama competition will also take place in 2017.


Here you can see the diorama of Peter Seuren. He won the first prize two years ago. For the year 2017 25 participants have already registered. The task is then that the diorama must not be larger than A4 format. Simple and easy with the motto: "Not too big, not too small on an A4 sheet it must be built". The participants have almost completely free hand. The diorama will be presented on Eurospoor2017 for 3 days. There will be an expert jury but also the visitors may bring in their vote. The award ceremony will be sunday afternoon.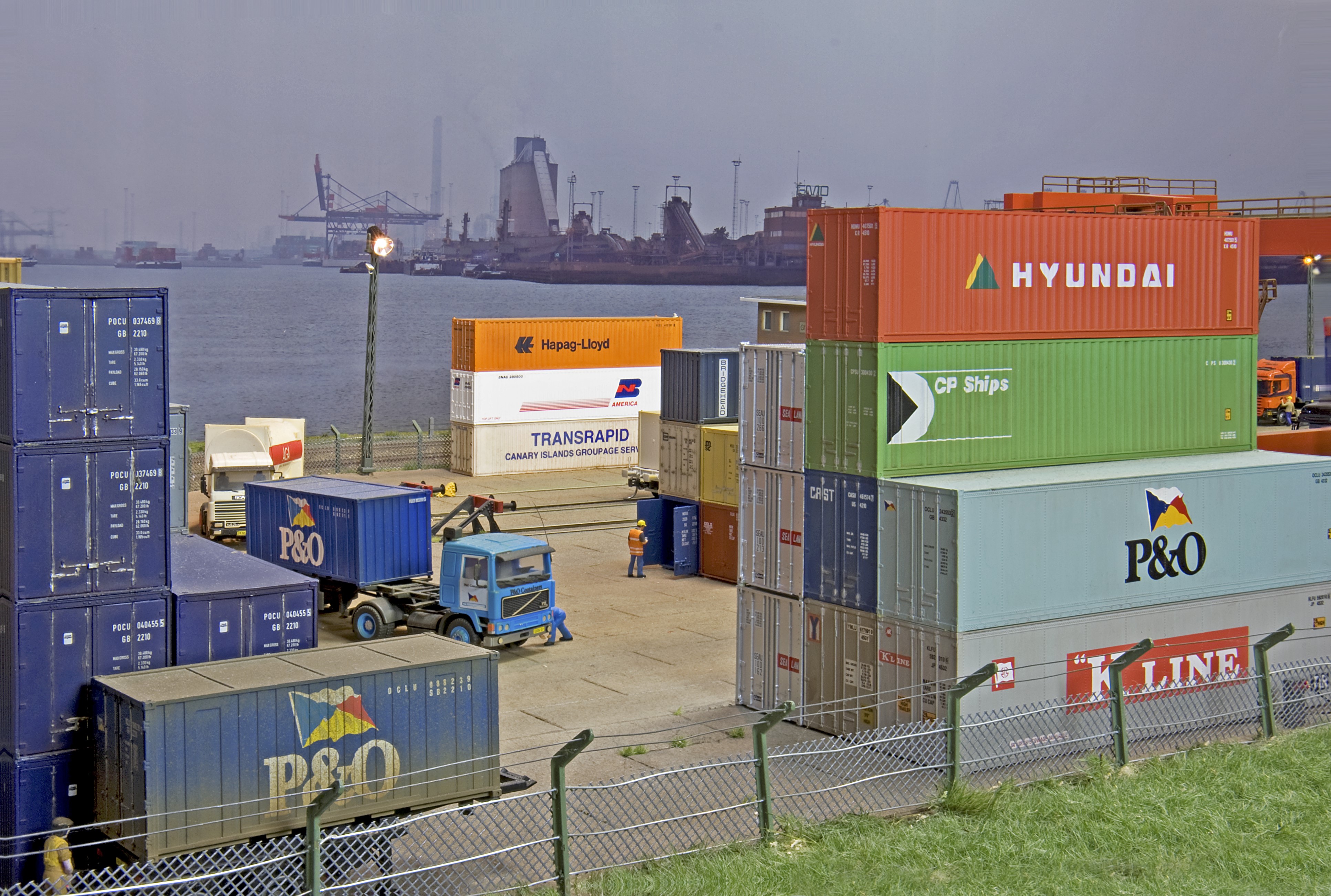 Kaj-M, Brothers Montfrooij, NL
The harbour of Rotterdam stood model for this layout named "Kaj-M". It offers a variety of shunting possibilities. The keen position of buildings and background create large depth. Offers inspiration for the home layout!
 Photo: Gerard Tombroek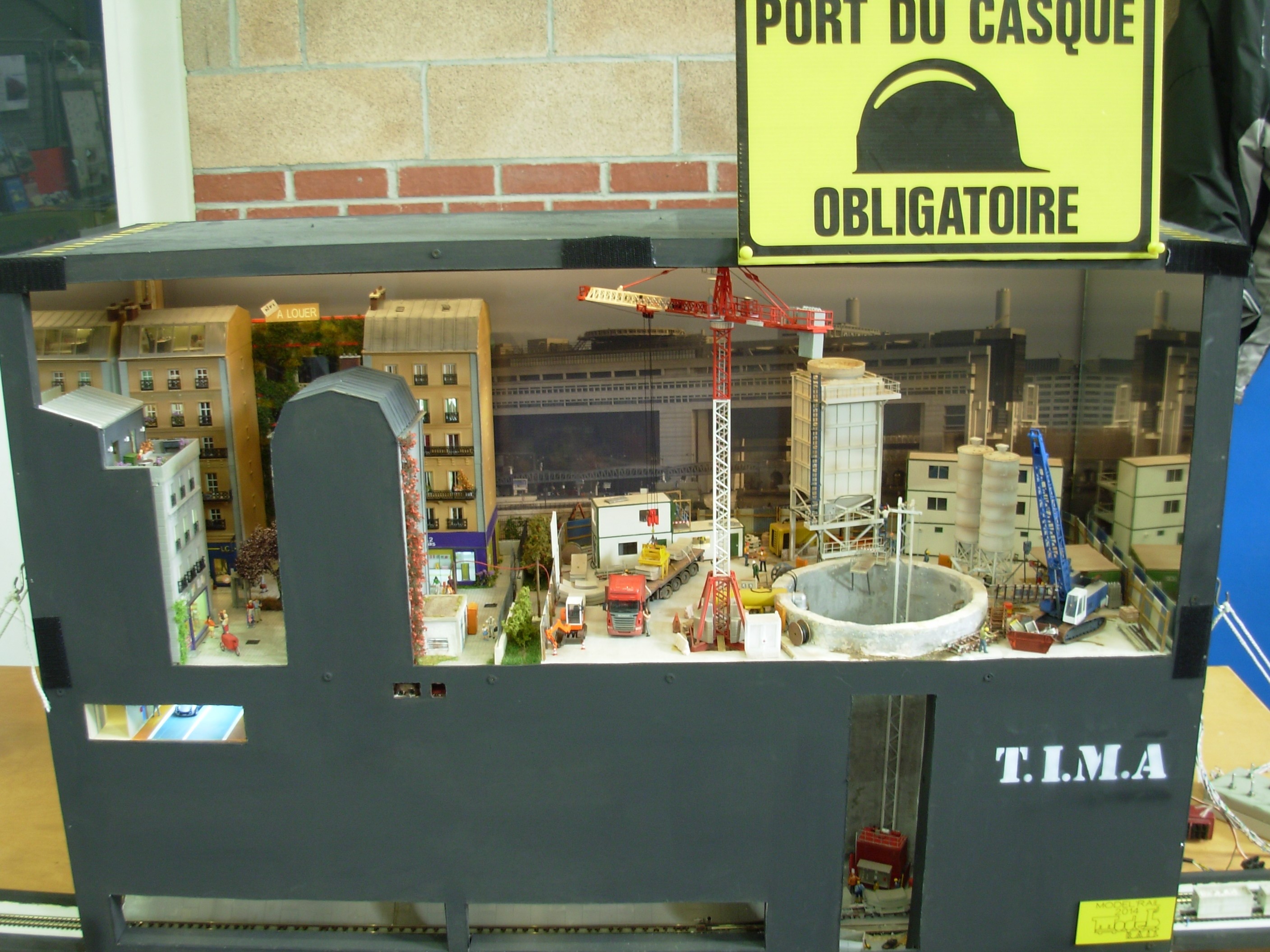 T.I.M.A. - Build a network of collection and storage of untreated rainwater.

In some areas cities can flood regularly, which is a nightmare for the inhabitants.
One of the solutions is to build an underground corridor system so that the water pollution can be collected to transport later to the sea or rivers. One of the first major cities where this system was applied is Chicago.

In Kuala Lumpur, one has to make these stormwater tunnels more economical during the 360 ​​days a year that the tunnel is not being used as a motorway. In other major cities, stormwater tunnels are also built, such as in Paris. Here is the largest stormwater tunnel in Europe with a capacity of 80,000m3.

Erwin Josset has shown in two modules parts of the construction of this huge tunnel complex in Paris. The first module shows the tunnel drill and the second module provides insight into both the above-ground section and the building pit that gives access to the tunnel for people and materials.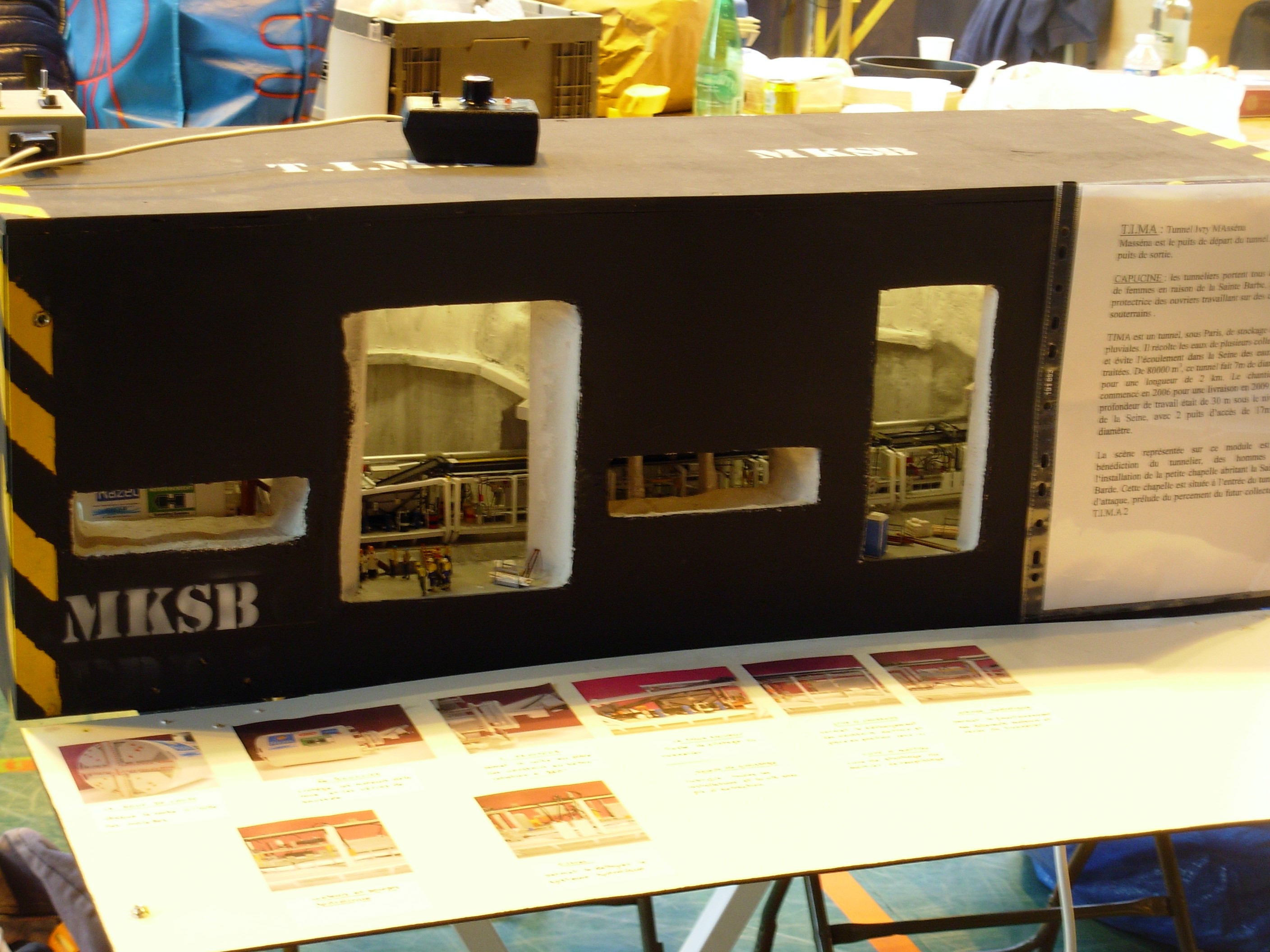 General Information
Eurospoor 2017 takes place from 3-5 November in the Jaarbeurs trade fair centre in Utrecht. It is a three day show opened from Friday 10.00 to Sunday 17.00. Entrance tickets cost online € 16,50 / child upon the age of 12: € 7,00. Sunday 5 November: Entrance is free for children under the age or 12 with e-ticket. More information at www.eurospoor.nl
Venue
Jaarbeurs trade fair centre (Railway station at walking distance).
Jaarbeursplein 6
3521 AL Utrecht
Netherlands
Information EUROSPOOR, Tel. 0031.299.640354
Opening times:
Friday 3 November 10.00 - 18.00
Saturday 4 November 9.30 - 17.30
Sunday 5 November 9.30 - 17.00
Tickets also online available (see website)
Disability access: Yes
Car parking: Yes
Organisation:
Eurospoor
Amazonelaan 86
1448 TN Purmerend, Netherlands
Tel. 0031.299.640354
Fax. 0031.299.646197
E-mail: eurospoor@eurospoor.nl
Website: www.eurospoor.nl
Check us on facebook:
www.facebook.com/eurospoor
Our Magazine the Eurospoor Express Magazine:
www.eurospoorexpress.nl
Every visitor receives free: Postercalender and Eurospoor-Express Magazine.