Activities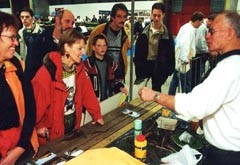 Demonstrations and advice
EUROSPOOR doesn't only mean looking! You can learn a lot there, too! What is the best way to set up a model railway? How are models made? Which technique had the preference when 'building' a landscape?
Almost all modelrailway clubs have informationstands where you as a visitor can fee free to inform after anything you want to know about their lay-out of club. Not only the die-hards but also the starter is welcome to inquire about the unknown.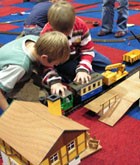 The kids ... can really play
Of course there are top layouts too fragile to handle and where children can only look with the eyes and not with their hands, but that is not everywhere so!
For the thousands of children that attend Eurospoor yearly, we designed lay-outs that may be operated by children without any supervision.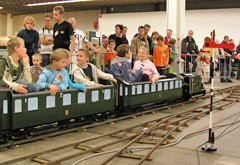 A number of clubs even allows them to help operate the railways. But we also have the Dutch Mini Railways with tracks and trains so big that children actually can make a ride in it. A nice start to the train hobby or just a day out to play with trains.
This year model railway manufacturer Faller made a large amount of construction kits of model houses available so that you and your (grand) children can build a model house at the show (fo a small amount).
Forum model railway

Forum members of the internet site www.beneluxspoor.net decided not only to present theirselvers from behind the keyboard, but also to meet in real live. They do this at the upcoming Eurospoor with individual model railway presentations that when connected will result in a 24 meter long model Railway.
Here are all the (Dutch) building reports (and pictures):
http://forum.beneluxspoor.net/index.php/board,113.0.html
 
And colleague site "Modelspoorwijzer" has a diorama competition with limitation to aan A4 sheet. Meanwhile, dozens of submissions are logged and will compete for great prizes. The results of this can be seen on Eurospoor2015! Please give your opinion on these dioramas.
The (Dutch) building reports can be found here: