Activities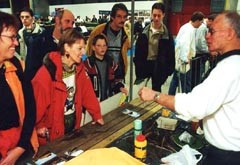 Demonstrations and advice
EUROSPOOR doesn't only mean looking! You can learn a lot there, too! What is the best way to set up a model railway? How are models made? Which technique had the preference when 'building' a landscape?
Almost all modelrailway clubs have informationstands where you as a visitor can fee free to inform after anything you want to know about their lay-out of club. Not only the die-hards but also the starter is welcome to inquire about the unknown.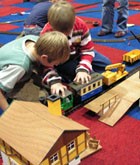 The kids ... can really play
Of course there are top layouts too fragile to handle and where children can only look with the eyes and not with their hands, but that is not everywhere so!
For the thousands of children that attend Eurospoor yearly, we designed lay-outs that may be operated by children without any supervision.
A number of clubs even allows them to help operate the railways. A nice start to the train hobby or just a day out to play with trains.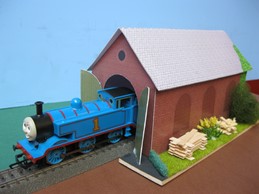 At the stand of Railclub Utrecht children can build their own engine shed.
Large stand of Beneluxspoor.net

Beneluxspoor is your model railway consultant! In a large stand they present you demonstrations given by specialists in their field. The demonstrations will cover themes such as Scenery, Pimp my train, Scratch build and digital. In addition, the "train drivers" can (usually) help you with your faulty train or decoder installation, you can test your purchase on the test track and of course the renewed BNLS
forum module layout.
 
A4 diorama competition

After the success last year of the diorama competition with 24 participants, the foundation "Modelspoorwijzer" wrote in cooperation with the model rail magazine Railhobby and Eurospoor for 2018 again a diorama competition. And yes, it seems incredible, but all these works are becoming built on the size of a piece of paper (A4). The motto of this competition is therefore: "Not too big, not too small. It must be buildable on an A4 sheet! "The dioramas will be shown all the exhibition days. There is a professional jury, but visitors may also vote. The award ceremony takes place on Sunday afternoon.